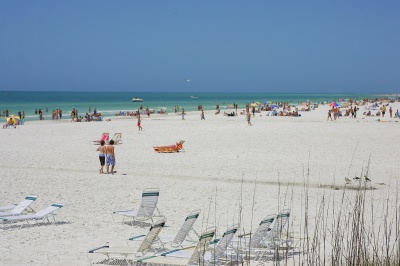 Sarasota County stretches for miles and miles and has many different facets to it. Perhaps one of its most special attributes is that there are numerous barrier islands that help to comprise the city. These are named such things as Longboat Key, Lido Key, Siesta Key, Casey Key and so on. In particular, Siesta Key is one of the most popular.
Although only an 8-mile stretch of land, Siesta Key is packed full of things to see and things to do. It is known for being a "laid back" island and one where the name of the game is relaxation and fun. Although one can certainly dress elegantly when going to dinner at one of its many lovely fine-dining restaurants, most of the time the attire of the day is shorts, t-shirts and flip-flops. Casual is the norm and is displayed by those who live on or come to visit the key.
Without question, the single biggest draw to this naturally beautiful key would have to be the beach. Always making the list of the top beaches in the country (in the world!) is the very popular Crescent Beach. In fact, in 2011 it was ranked at the very top of the list as the #1 Beach in America! Wow! What a distinction to have and what a coveted title to enjoy. Words alone make it difficult to describe. Imagine sand that truly is like sugar. Just as white and just as powdery. Now imagine that this sand is actually quartz and has the rare quality in that it doesn't hold heat. What? How can that be? While we can't easily explain it, here is what we know. No matter how hot it is, the sand remains at a very "manageable" temperature so that one can enjoy walking across the widest expanses of it without blistering the bottoms of one's feet! Have you ever been to other beaches where you see people jumping and dancing and running in order to try and escape that unbearable pain of fire-hot sand underfoot? Crescent Beach, on the other hand, is a beach where even the tender little feet of small children are safe!
The water of the Gulf of Mexico couldn't be any bluer or prettier if it tried. It is the most wonderful place to enjoy a swim or just a nice float on a raft. Of course, one of the all-time favorite times of the day is in the evening as sunset approaches. Families, young lovers, old lovers, etc., venture out to take in the beauty of a glorious painting in the sky. Each night is different and so one never tires of seeing what the sunset will be like on any given night.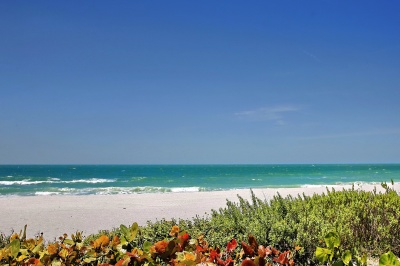 Siesta Key enjoys a vibrant town center known as "The Village" and is home to a vast array of shops and places to eat and small businesses. There are so many things to choose from. One can find everything from very upscale clothing shops and restaurants to very affordable t-shirt shops and burger joints! You get to decide. Come as you are and you will find something to fit.
If outside activity and sport is your game, then you are in the right place. Enjoy biking, running, kayaking, sailing, swimming, parasailing, playing tennis, playing volleyball, playing shuffleboard and the list goes on…….
There is also a wide variety of accommodations on the key. There are high-end condos and homes available for rent as well as Old-Florida "mom and pop" hotels/condos along the beach. Truly there is something for everyone in part why Siesta Key is such a popular destination for vacationing families or those enjoying Spring Break or the like.
When people use the term "paradise" as the perfect place to live, Siesta Key fits the bill. It is a friendly, pretty place and there are all sorts of things to do. Many people have decided that owning their own piece of paradise makes sense for them and so there are many who own a second home or vacation home/condo on the island.
THE HISTORY OF SIESTA KEY
Siesta Key used to be known as Sarasota Key and it was only in the 1920's that Siesta Key became the more common name. It was in 1846 that the key was colonized first. Of interest is the name Sarasota. It comes from a word used by the American Indians, to describe this particular area, Zarazote. Even as late as 1940 there were roughly 300 people living on the key and most of them were in fishing camps. Today there are about 15,000 people who live on the key full time with another 18,000 that make it home during the winter months. Those folks are affectionately referred to as "Snowbirds" since they migrate much the same way as a flock of birds would.
In 1916, a gentleman named Harry Higel was the mayor. He was in favor of having a bridge built and so, in 1917 the first bridge linking the mainland and the island was built. It was called Siesta Key Bridge. In 1926 another bridge was built, this time on Stickney Point Road. Other people of significance to the key were Ocean Hansen Roberts and her husband Capt. Louis Roberts. It is in their honor that Ocean Boulevard, Hansen Bayou and Roberts Road were named. Additionally, Capt. Roberts added on to his home over the years to the point that it came to be known as Roberts Hotel. He, along with some other men, like Harry Higel and E.M. Arbogast, started an organization known as the Siesta Land Company. They did dredging and excavating work that gave Siesta important improvements. Shell that had been dug was used for roads and low land was filled giving additional places for homes to be built.
There is a very interesting formation of limestone rock that juts out from the beach into the Gulf known as Point of Rocks. Many refer to it as one of the best places along the West Coast of Florida to snorkel and to see a vast variety of fish.