BEST IN CLIENT SATISFACTION REAL ESTATE AGENT
TOP SARASOTA REAL ESTATE AGENT
Clark named a FIVE STAR Best In Client Satisfaction Real Estate Agent for the seventh year in a row. The FIVE STAR designation is truly an honor. The designation is only awarded to real estate agents who have scored highest in client based research conducted by a national independent research company under the direction of Crescendo Business Services. The designation is awarded to just 7% of real estate agents in any market area. Real Estate agents are not able to "buy" their way onto the list, and the designation is not based on sales volume but solely on how consumers have evaluated their experience in working with that agent.
The ratings are based on feedback from 80,000 recent homebuyers, 190,000 readers and data from 5,000 mortgage and title companies. Agents also receive a credential review to verify that their license is current and their record is clear of disciplinary action. Finally, agents are reviewed by a local blue ribbon panel of industry experts.
The only service award based on direct client satisfaction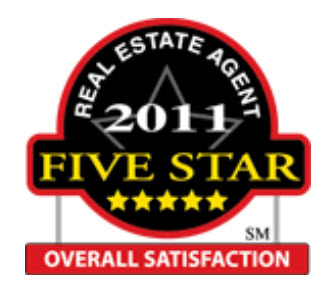 This consumer-based approach to identifying service professionals is unique in the marketplace and specifically designed to help consumers identify a high quality service professional. The FIVE STAR Best in Client Satisfaction program is managed by Crescendo Business Services LLC, Eagan, Minnesota, which owns the licensing rights to this award.
Crescendo works with city and regional magazines to present the "FIVE STAR: Best in Client Satisfaction" award to professionals in many industries, and in many markets. Crescendo is proud to be working with partner publications on the FIVE STAR program. This award is limited to seven percent of all professionals within a specific industry and market area. As an independent third party, Crescendo presents the FIVE STAR award to assist consumers in selecting a service professional other consumers have indicated provides exceptional client satisfaction.
Crescendo assists FIVE STAR professionals in effectively marketing their award and enhancing their business results. Because the award is based on sound research methodology and comes from an independent third party it can be the cornerstone of an effective marketing program to positively differentiate the service professional from their competition. Crescendo reserves the right to revoke this award when criteria are not being met.