Sarasota is a gem. Pure and simple. It is just one of those places that have been given an extra measure of beauty and blessing and people who come here never want to leave! At one point in time it may have been considered a rather undiscovered, small coastal town that was home to a few well-to-do retirees but things change. Now it is a fabulous mid-sized city that is home to a wide variety of people from all over the world and of every age bracket and financial status. But, they all have one thing in common and that is love for all things Sarasota.
The formation of the area is unique in that there are numerous barrier islands and much of the city has the benefit of being waterfront. There are truly miles and miles of coast be it on the Intercoastal Waterway or on the Gulf of Mexico. Many people can enjoy either living directly on the water or, at a minimum, having very easy access to it. Not all cities in Florida are like this. Many have only a small stretch of the glorious blue stuff. Not us! We have water no matter where you look and we are grateful for this.
While our downtown is not overly large, it is lovely and there is so much to see and many choices of things to do. We have restaurants of every sort and all kinds of art galleries and special boutiques perfect for exploration. After a tough afternoon of shopping and browsing there are numerous quaint coffee shops and lovely bakeries where one can sit and enjoy a little pick me up.
Sarasota has very deservedly earned the title of art and cultural mecca of Florida and it is easy to understand how this honor was awarded the city when you realize how much is offered on this front. Dating back to the 1930's is the historic Opera House, home to the opera company, recognized nationally for its quality as well as being home to the highly-acclaimed Sarasota Ballet. In addition to these there are several other theaters in the heart of downtown such as the Florida Studio Theatre which features cabarets, improve comedy and a full season of new plays and the Golden Apple Dinner Theater. Located just on the edge of downtown is The Van Wezel Performing Arts Center, a wonderful venue for a wide variety of big-name performers. Its bright purple exterior makes it a building impossible to be missed.
Also downtown is a fabulous bay front park and water's edge area that is home to wonderful sculpture and great little eateries. In this same general area is Selby Gardens and is a great place to spend some time appreciating the botanical life that makes Florida so special.
Every Saturday morning several blocks are blocked off downtown so that the very popular Farmer's Market can happen. What a fun time to see friends, take the dog for a walk and stock up on all sorts of locally grown items as well as wonderful baked goods from local vendors.
Shopping abounds in Sarasota at every turn. We have two, rather large malls that are home to many popular and well-known stores like Macy's, Dillard's, Saks Fifth Avenue, Sears, JCP, Ann Taylor, Banana Republic, Gap, Hollister, Chico's, Coach, Williams-Sonoma, Pottery Barn and so on. There are also numerous large complexes around town that are home to many well-loved stores like Best Buy, Marshall's, Bed Bath & Beyond, Old Navy, Barnes & Noble, Ulta, Target, Kohl's, Wal-Mart, Beall's, Home Depot, Lowe's, Sam's Club, Costco and many more. We have great choices with regards to our grocery stores that include things from small, specialty gourmet shops like Morton's Market to Trader Joe's to Whole Foods to Fresh Market to Sweetbay to Publix and everything in between.
There is a wonderful area known as St. Armand's Circle that has great little shops and boutiques and many, many fun choices for dining. There is something for everyone here and this is a terrific place to spend a day or an evening as it is always festive and lively.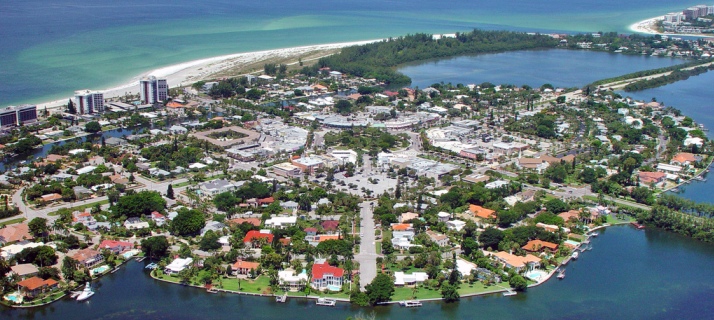 A boater? Join the Sarasota Yacht Club or the Field Club or the Southbay Yacht Club or the Sarasota Sailing Squadron or the Freedom Boat Club. You decide what is best for you or, perhaps you will simply decide to keep your boat at one of the many boat storage facilities located on the water for easy access.
Love the beach? You have come to the right place. We have glorious, powdery-white sandy beaches that rival the best beaches in the world. In fact, Siesta Key Beach is often named as one of the country's top beaches and was #1 in 2011 and #2 in 2012. It just can't be missed.
Sarasota enjoys wonderful neighborhoods in all price ranges and styles and some of Florida's best schools. We have the University of South Florida, New College and The Ringling School of Design to name a few of our colleges as well.
We have the Ringling Art Museum, G-Wiz Science Museum for children, the Mote Marine and the Asolo Theater to name but yet a few more of the jewels in the crown. And did I mention we have our own symphony and the Itzaak Perlmanprogram for youth symphony?
Sarasota is the home to some very special parks, both state parks and local. We have the Legacy Trail which is a rails-to-trails biking path spanning nearly 15 miles and even our own skateboarding park. There are special parks for dogs and just hundreds of gorgeous places to go for a stroll.
Golfers and tennis players are in heaven when in Sarasota. There are so many options available to people that a person runs out of time before they run out of options.
We have churches of every faith and nationally recognized medical facilities and physicians. We have community foundations and we support the needy in our area and have very charitable people who give much back to the city.
We have great spas and movie theaters and bars and nightspots and craft shops and car washes and bowling alleys and dog groomers and nail shops and shoe repair shops and……get the idea? You name it, we've got it!!
Come and see what everyone is talking about! Come and see Sarasota.